Don't start groaning yet! Practicing can actually be fun! And it makes you a much better musician. It may not sound like fun right now, but when you're done with this page you'll enjoy practicing as much as I do!

Now most people don't know how to practice the right way which mean all of the time they spent "practicing" does NOTHING! If you practice the right way, you will improve greatly and you will actually enjoy practicing.

Once you're done with this page, close this window and continue onto the evaluation page.

---

Resources:
Powered by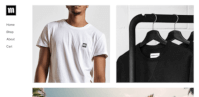 Create your own unique website with customizable templates.
Photo used under Creative Commons from chrisjtse